EvolvePlus Blog
Latest news and updates from EvolvePlus
Performance Analytics for Smiley Feedback Counters
Our battery-powered Customer Feedback Counters gather valuable customer satisfaction information with five separate smiley buttons that automatically send data to the choice of a Cloud or On-Premise Dashboard.
We've recently enhanced our EvolvePlus ePortal Cloud Dashboard with new visual data analytic charts to assist organisations in gaining insights into client feedback and building customer loyalty across different locations.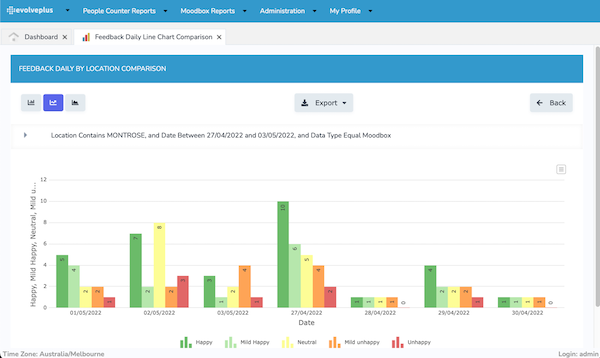 The new performance analytics charts include:
Daily Feedback Comparison Across Selected Locations
Feedback Percentage Across All Responses Received
Feedback Type Totals
Feedback Based on Time of Day
Moodbox Activity
Overall Median Satisfaction Score
The ability for your organisation to configure the smiley button labels displayed on the reports and charts has also been included in this release.
For additional data analysis, the Smiley Feedback Counter can be integrated with our modular Wireless, USB, and Overhead 3D People Counter solutions so that footfall traffic statistics and real-time customer satisfaction feedback are available from a centralised web-based dashboard.
Contact EvolvePlus for information on how to implement the new visual data analytic charts into your ePortal Cloud Dashboard or how the Smiley Feedback Counters can deliver real-time customer satisfaction survey results.