About Us
EvolvePlus Company Profile
EvolvePlus Pty Ltd is an Australian company specialising in delivering leading edge web based library solutions for organisations across Australia.
Our EvolvePlus ILS is a flexible library solution that can be customised to suit the unique requirements of your library. The EvolvePlus solution features an extensive range of web browser based library modules including Acquisitions, Authority Control, Catalogue, Patron Management, Cicrulation, Periodicals, Reporting, WebOPAC, PC Booking, Reference Tracking and Web Content Portal.
Experience
Our staff have extensive experience in implementing library solutions and migrating data from legacy library management products.
Some software companies are notorious for over-promising and under-delivering. Not us - we offer fast implementation, with a rapid conversion from your old system. We work closely with your staff to make sure they understand how to use the software to its full capabilities. And we provide extensive on-site support during the implementation process.
Our Directors
Tony Di Giulio


Tony has spent over 25 years working for a number of large library services, rising to the level of technical services and supervisory roles, before making a career move into the development, project management, implementation, support and training of Library Management Systems. During his time at InfoVision Technology, Tony was instrumental in the roll-out of Amlib Library Management System into libraries across Australia and abroad. He has extensive experience with and knowledge of, some of the other applications in the LMS space including Aurora, SirsiDynix Symphony and Spydus. Since 2007 Tony has been a director at WebWired Solutions - delivering integrated library services & consultancy to a wide range of schools and organisations.
Trevor Dykstra

Trevor was one of the founding members and General Manager at InfoVision, which developed the Amlib Library System from 1994 until Amlib was acquired by OCLC in 2008. Trevor's achievements include the expansion of Amlib from Australia into libraries within North America, United Kingdom, Europe and Africa. Trevor's experience covers business management, company operations, project management, consultancy and marketing as well as delivering technical services. Trevor is also the Managing Director and CEO of infoXpert Pty Ltd - a company committed to delivering leading edge web based document management solutions using .NET technology.
Byron Smith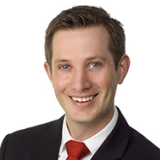 Byron has over ten years experience, building and developing web based content solutions for a range of businesses and organisations. With a strong focus towards the latest technologies, Byron combines a wealth of technical knowledge and experience with a committed client focus as a director of EvolvePlus. Byron previously worked as the lead technical consultant at InfoVision Technology. During this time he had extensive experience with a number of library web-based applications, including library management systems (LMS), Opacs and PC booking systems. From 2007 Byron has been the co-founder and director of WebWired Solutions, an Australian based company offering a variety of specialised IT services and software for schools, libraries and government bodies.