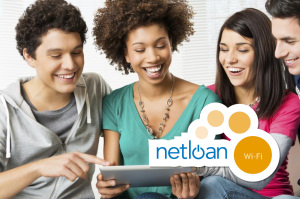 Netloan - Brochure
Contact for pricing
Wi-Fi Authentication Access and Control
The Netloan Wi-Fi module provides a completely automated login and authentication process for users wishing to access your wireless network, with the ability to set certain controls for length and frequency of Wi-Fi sessions available.
Advantages of Netloan Wi-Fi include:
Promote library membership with added benefit of free Wi-Fi hotspots
Protect your network: only library members or approved guests can login and use Wi-Fi
Automated authentication process: no staff assistance required
Platform independence - the solution works with most manufacturers' Wi-Fi hardware
]Option to create a new revenue stream through Wi-Fi subscriptions e.g. for guests
Access, Tracking and Reporting By User Group and Library Branch
Offering a simple, flexible Wi-Fi solution When launching an internet browser from a laptop or mobile device within the Wi-Fi hotspot, the user will need to enter their library card number and PIN before gaining access to the internet. Netloan Wi-Fi achieves this by authenticating the user credentials via Netloan and the Library Management System (LMS). This way, only library members can access the library's wireless network, potentially increasing library membership, footfall and use of the services available, while also ensuring users are tracked. Access restrictions, such as maximum minutes per day, can be set up and applied across sites and users, or by age group and location. A record is also kept of all wireless logins and accessible on demand.
Scalable and Cost-Effective
The software for Netloan Wi-Fi is installed on a central server and then each further site is licensed. There is no software installed at each individual site, which cuts down on installation time and costs, and removes the need for further servers. More detailed/technical information on Netloan Wi-Fi and how it can work for you please visit the Netloan Wi-Fi website.
EvolvePlus Clients