VuFind Discovery Layer is available from EvolvePlus as a Managed Service.
EvolvePlus is pleased to announce that it is VuFind's commercial support provider to libraries throughout Australia. Our extensive range of VuFind services available to our customers include:
VuFind Managed Services Agreement with Customer Support & Helpdesk
VuFind Implementation, Configuration and Customisation
VuFind ILS Driver Configuration and Development (connecting VuFind to your existing library system)
VuFind Project Consulting
EvolvePlus provides libraries with the unique choice of retain its existing ILS and replace just the OPAC with EvolvePlus implementing the VuFind Discovery Layer as a managed service.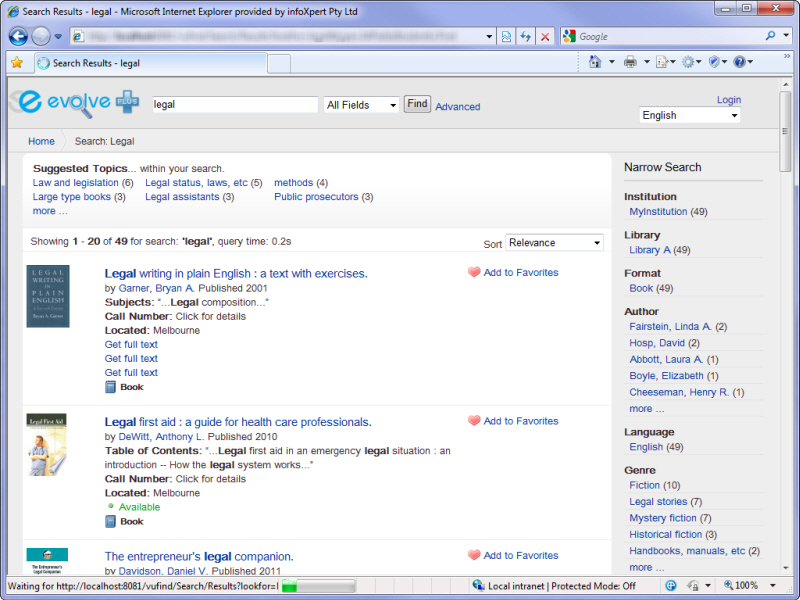 (We can also replace your existing ILS with the complete EvolvePlus ILS solution including the VuFind Discovery Layer).
About VuFind
The VuFind Discovery Layer enable libraries to provide patrons with a unique web 2.0 experience often missing in traditional library system OPACs.
VuFind is an open-source resource discovery  portal  developed  for  libraries  by  libraries,  harnesses  the  power  of   contemporary  Web  search technology that enables users to query and browse the library's resources in a simple yet sophisticated manner.
Click Here to view details of the extensive range of VuFind Discovery Layer Features
Contact EvolvePlus to discuss how we can enhance your OPAC with VuFind as a Managed Service
Trackbacks
Trackback URL for this blog entry
by on Wednesday, 30 November -1

devis peinture en ligne devis gratuit en ligne devis travaux ...

by on Wednesday, 30 November -1

Or if you require tie building for a $2 trillion troupe listed on the New York fund telephone exchange NYSE with a long chronicle in the entertainment and play industries. ...

by on Wednesday, 30 November -1

visit website ...